What a crazy time this is. And for parents of young children, it's more challenging than ever. Many children go to school virtually at home or only take part in face-to-face classes a few days a week. When schedules get upside down and upside down, it's a great time to invite kids to come into the kitchen and cook with you.
Yes, there are obvious pitfalls. You can get dinner on the table a lot faster if you just do it yourself. And the kitchen stays cleaner when you cook without your kids. But consider what you might be giving up: cooking with kids builds memories. It teaches them where their food comes from. Children are more likely to eat fruit and vegetables after they have helped prepare a meal. It's as much about the process as it is about the result.
And cooking teaches STEM skills. When you bake, kids engage these skills through a fun, delicious activity.
Cooking together is also a great way to pass on traditions and rituals. ("My grandmother used to make these cookies with me when I was your age.") And creating independent children who know how to feed themselves and others will pay dividends for many, many years.
Where to start Depending on the age of your kids, you may want to start with some simple but enticing options.
Mash up some avocados to make guacamole. Pop some popcorn and make an interesting topping. Layer tortilla chips with salsa and cheese and leftover veggies to make nachos. Make your own kale chips instead of eating potato chips. Roast pumpkin seeds from your Halloween pumpkin. Bake muffins or cookies. Roasted chickpeas for a healthy snack, you can find this and other recipes here.
How about a fruit salad? Peel and chop bananas, pears, apples, citrus, melons, or any other fruit you have on hand. Consider a smoothie. This is a great way to get kids enjoying fruits and veggies and yogurt. Prepare a bunch of fruit – apples, bananas, pears, frozen berries – some plain yogurt and ice cubes. Let each child create their own smoothie according to their taste. Call it a milkshake if you like. But watch them have fun and create and drink. Smoothies make a very quick nutritious breakfast or snack. Here is a basic recipe to replicate.
Speaking of breakfast, try these pancakes:
Maple Banana Pancakes
The batter for these pancakes comes together in minutes. The pancakes are topped with banana slices sautéed with cinnamon, ginger and maple syrup. You can also sauté some apple or pear slices or your favorite fruit as a topping. Serve it with bacon or fruit salad for breakfast, or make it a breakfast-for-dinner night special.
Makes about 12 pancakes.
Ingredients for pancakes
2 1/2 tablespoons butter
1 cup white flour
1 cup whole wheat flour (or use 2 cups white flour)
2 teaspoons baking powder
1/4 teaspoon baking soda
1/4 teaspoon salt
2 cups buttermilk*
2 eggs, whisked
2 tablespoons maple syrup or honey
banana ingredients
1 1/2 tablespoons butter
2 bananas, peeled and cut into slices about 1/2 inch thick
Dash ground cinnamon
Mash ground ginger
1 tablespoon maple syrup or honey
Maple syrup, for serving, warm or at room temperature
*If you don't have buttermilk, you can make your own: simply mix 2 cups of milk with 2 tablespoons of lemon juice or white wine vinegar. The acid causes the milk to curdle slightly and after about 10 minutes the "buttermilk" is ready to use.
instructions
For the pancake batter, melt the butter in a large skillet over medium-high heat. In a bowl, whisk together white and whole wheat flour, baking powder, baking soda, and salt. Stir in the buttermilk, eggs, melted butter, and syrup and mix until just combined. The dough can be covered and refrigerated overnight.
Make the bananas: In a medium skillet, heat the butter over moderately low heat. Add the banana slices and sprinkle with cinnamon and ginger. Boil 1 minute. Gently flip the banana slices and increase the heat to medium-high. Add maple syrup or honey and cook until syrup is bubbling and thick and bananas are golden brown, about 1 minute.
Make the pancakes: Preheat the oven to 250 degrees. Heat the large skillet you melted the butter in over medium-high heat. In batches, pour about 1/4 cup batter into the hot pan (kids, beware!) and make pancakes about 3 inches wide. Top with a few slices of the sautéed bananas and cook, about 2 1/2 to 3 minutes, or until bubbles form. Gently flip the pancake and cook for an additional 2 to 3 minutes, until the pancake no longer looks "wet" and is golden brown. Keep pancakes warm in the preheated oven. Repeat with the rest of the dough. Serve with maple syrup.
Another breakfast treat? Make granola with your kids. You can customize to your own taste. (PS This is a great gift from the kitchen for your kids to make and give to others this holiday season!)
Quesadillas — tortillas with melted cheese, salsa, and other toppings — make a quick, easy lunch, snack, or light dinner. Here is the basic recipe:
Cheese and Salsa Quesadillas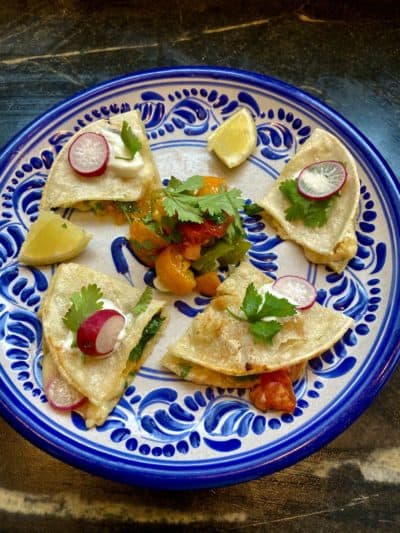 Grilled cheese meets tacos. Have the children break up the cheese (be careful with your fingers!). Make salsa or open a jar. And then add what your kids love and what you have on hand: ripe avocado slices, thin slices or shreds of cooked chicken, leftover vegetables, beans, etc. This recipe makes 2 quesadillas, but you can easily double the recipe.
Quick Salsa Ingredients:
1 cup chopped ripe tomatoes
1 spring onion, chopped (white and green parts)
salt and pepper to taste
1 tablespoon olive oil
2 teaspoons lime or lemon juice
1 tablespoon chopped fresh cilantro, optional
instructions
Combine all ingredients in a small bowl and mix gently. Taste for seasoning, adding more salt, pepper or lime juice if needed.
Quesadilla ingredients
4 corn or flour tortillas
1/2 cup shredded cheese, sharp cheddar, or our favorite hard cheese
1 cup salsa (see recipe below or your favorite salsa jar)
2 tablespoons chopped fresh cilantro, optional
About 1/4 cup sour cream
Lime wedges, optional
Very thin slices of avocado or radish, optional
instructions
In a large skillet, heat 2 tortillas over medium-high heat for 1 minute. Flip the tortillas and spread the cheese on top. Add 1 tablespoon of salsa to the center of the tortilla and a sprinkling of cilantro, if desired. Cover with another tortilla and press lightly with a spatula. Cook for about 2 minutes. Gently invert the quesadilla and cook an additional 1 to 2 minutes or until the cheese is cooked and bubbling.
Remove from the pan and quarter each quesadilla. Garnish with a dollop of sour cream, a sprig of cilantro, and a few slices of avocado or radishes, if using. Serve hot. For 2 to 4 people.
pumpkin coconut soup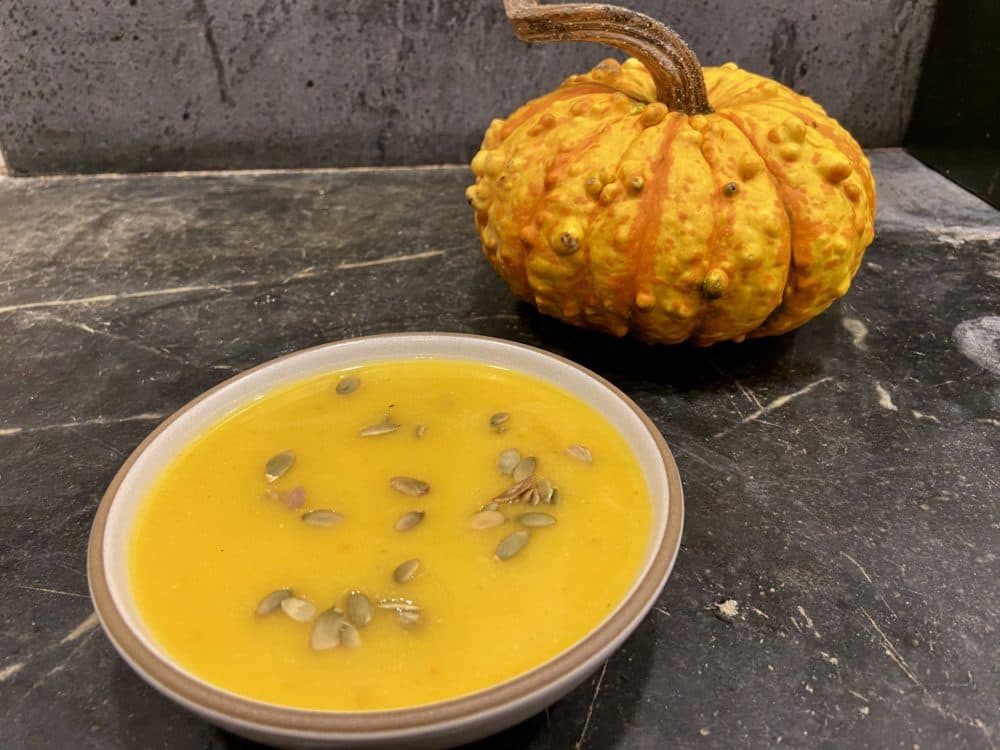 This may sound sophisticated and complex for cooking with kids, but the orange color and sweet pumpkin flavor will win them over. You fry an onion. Add a peeled, shredded boiled or winter squash (or canned pumpkin puree). Add salt and pepper. Then add chicken or vegetable broth and let it simmer and add a can of unsweetened coconut milk. Toss in mixer. (Kids love pressing buttons on blenders and watching food transform!) Warm up. Done!
For 6 to 8 people.
ingredients
1 tablespoon olive oil
1 tablespoon butter
1 medium onion, chopped
4 cups pumpkin or squash*, peeled and diced: This would be a 4-pound sugar squash or a winter squash like Butternut (I used a Long Pie Squash), peeled and seeded and cut into 1-inch pieces.
salt and pepper
4 cups chicken or vegetable broth
1 can unsweetened coconut milk (13.6 ounces)
Possible toppings: chopped parsley or chives, chopped walnuts or almonds, chopped sage leaves, roasted pumpkin
*You can also use pre-peeled and sliced ​​squash chunks, available at many supermarkets, or 2 cans of plain squash puree (no pumpkin pie filling) instead of fresh squash or squash, although the flavor won't be quite as good then.
instructions
In a large saucepan, heat oil and butter over low heat. When the butter has melted, add the onion and sauté for 5 minutes, stirring occasionally. Add the squash or squash pieces and stir into the onion; Boil 5 minutes. Increase the heat to high and add the broth. bring to a boil; Reduce heat and cook covered for 10 minutes. Add the coconut milk, stir until incorporated, and cook uncovered for 5 minutes. The squash or squash should be fairly tender.
Remove from the heat and puree the soup in batches in a blender or food processor. Return to the pot and taste to taste; Add salt and pepper to taste. Serve hot with any or all toppings.
Basic safety tips
Never leave a small child unattended near knives, blenders and sharp objects.
Use a knife with young children. Put your hands on the knife and talk about staying away from the blade.
Wear aprons. Less laundry later.
Have ingredients and measuring cups ready so they can weigh ingredients and measure everything. This is where math and learning come in.
If you are working with very young children, lay an old sheet on the floor to make clean up easier.
Start with a recipe your child will love. Then move on to other fruit and vegetable recipes.
I also checked with Molly Birnbaum, editor-in-chief of America's Test Kitchen Kids and mother of two young children. She offers some excellent resources for cooking with kids.
"At America's Test Kitchen Kids, not only did we take down the entire paywall on our site at the start of the pandemic [which will remain free forever]but we've started releasing a free weekly curriculum for parents called the Kitchen Classroom," Birnbaum said.