Équiterre, co-founded by Steven Guilbeault in 1993, and the Sierra Club Canada are suing, saying approving the oil project "contradicts Canada's international obligations."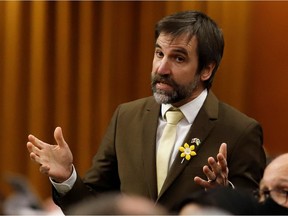 content of the article
Federal Environment Secretary Steven Guilbeault is being sued by the environmental group he co-founded after Ottawa approved the Bay du Nord oil project to operate off the coasts of Labrador and Newfoundland.
content of the article
Équiterre, co-founded by Guilbeault in 1993, and Sierra Club Canada are suing the minister, saying the Bay du Nord permit "runs counter to Canada's international commitments and the urgent call to reduce global emissions as a reality of the climate emergency is coming with each one." Severe weather event increasingly worrying."
The lawsuit was filed with the Federal Court of Justice on Friday.
In a communiqué issued Wednesday morning, environmental groups note that Guilbeault launched the Bay du Nord project just days after the release of his report by a panel of experts on climate change and UN Secretary-General António Guterres' description of new investments in the fossil fuel , approved as "moral and economic madness".
content of the article
The Bay du Nord project is a collaboration between Norwegian multinational Equinor and Canada's Husky Energy to exploit a deep-sea oil field, a first in the country. While Equinor originally estimated the project could produce 300 million barrels of oil, that estimate has since tripled.
Équiterre and Sierra Club Canada denounced the "massive downstream emissions this project will create," even though Bay du Nord's approval was subject to 137 conditions, including one that it emit no greenhouse gas emissions before 2050.
"The industry and government rhetoric that 'clean oil' can be produced ignores that the oil extraction process accounts for only 10 percent of an oil project's emissions. The remaining 90 percent comes from burning oil," the groups write in their complaint.
The two groups note that "over 30 years, between 300 million and a billion barrels could be produced by the floating platform," which is "the equivalent of (greenhouse gas emissions from) an additional seven to 10 million cars per year."
All new buildings in Montreal should be emission-free by 2025, says Plante

Nicolas: The latest climate report is crystal clear, but is Canada listening?